New Construction Painting In Red Deer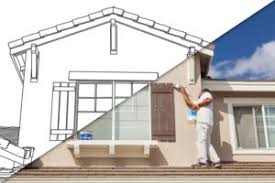 New construction painting can dramatically improve its overall appearance. Structural painting can also make your building to look beautiful and confident at the same time. There are a lot of reasons why most people prefer using a painting company for their new construction painting projects. Professional painters are trained and have the skills and experience needed to complete projects effectively and efficiently.
The beauty of a new construction depends greatly on the color of paints used, our professional painters know the type of paint and color to use on every new construction painting project and will help you choose the right paint for the job.
Benefits Of Our Red Deer New Construction Painting Services
With so many benefits associated with hiring our professional painters for your new construction, below are just a few.
Hiring a painting professional will help in adding to the structural stability of your new construction. Our professionals can spot decay or rot in all new housing structures. Even if these structural weaknesses are not obvious, they can have huge impacts on your building in the future. It is very important to quickly fix these structural problems before going on with the painting. When water vapors are allowed to accumulate in walls due to structural weaknesses, it could result in serious problems such as mold and rot. A new construction paint job can protect your building from water vapors. Our professional painters, however, can also help recommend qualified artisans to fix severe structural problems.
Painting your new construction leaves you with the opportunity of picking new patterns and colors. This is an exciting process that determines the beauty of your construction. Our painting contractors can provide recommendations and advice you on the right colors to use. Our Red Deer painting company provide coloring schemes and cost-effective alternatives to meet your various needs. Back rolling and back priming needs to be professionally applied efficiently. New construction painting is a job that needs a skilled artisan who will get the job properly done. The type of paint used has a great impact on every new construction as this helps the structure to stand up to ultraviolet rays and the weather.
Why You Should Choose Us for Your Red Deer New Construction Painting Company
Being painting contractors, we take the stress from you and make it ours. Our Red Deer painters are insured, licensed and trained to carry out work on your new construction. Our painters will properly guide you through the entire painting process from the beginning to the end and provide painting alternatives and detailed product information.
Feel free to ask your friends and colleagues about the type of services we offer. We are undoubtedly the best, and our reputation speaks for us. Our reputation has made us handle so many new construction painting projects over the years, and we always ended up exceeding the expectations of our clients. Hiring us is the best way of ensuring the best quality paintwork on your new construction.
Painting a new construction is a very important process best handled by our professional Red Deer painters. New construction painting improves the overall beauty of a building and provides structural stability.